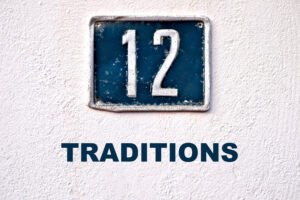 AA and other 12-step recoveryThe process by which addicts attempt to break the hold a certain substance or behavior has on their lives. This can refer to participation in a wide variety of methods. What they all have in common, is a sense that life is improving and the addict is regaining control. More organizations run surprisingly smoothly. Despite differences in culture and purpose between the groups, they tend to remain focused on their goals. They usually avoided excessive infighting or bad publicity. The various groups within 12-step fellowships have managed to run their affairs well while maintaining their autonomy.
The 12-traditions allow these organizations to manage their day-to-day affairs competently while remaining focused on their mission.
History of the 12 TraditionsFirst published in 1946, the traditions are intended to allow the organization to run smoothly while protecting the anonymity of its members. The traditions were designed to resolve internal political struggles, problems of funding, and issues of publicity. These are all considered distractions from... More
AA was created in the 1930s and soon enjoyed a terrific amount of success. Groups spread all around the United States and, not long after, the entire world.
However, there were no clear rules for the structure of the organization. The different groups were intended to be self-contained and self-sufficient, and they indeed were. However, organizational questions and controversies began to bedevil the fellowshipThis refers to the members of AA and the bonds of support between them. It is this fellowship that allows addicts to share their stories and accept each other in a world that is not always understanding. More. No matter how autonomous the various groups are, they need a way to deal with administrative and financial issues.